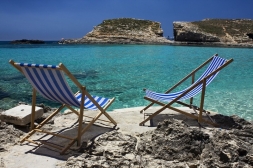 Summer time-out
Not only people, but also websites need to take a rest, so we will take leave partly in August. But really only partly as we will continue to bring news on events in the real estate sector. Certainly, they will not be dull affairs, the real estate is truly "pregnant" with expectations. "Hopefully it will get going!", this is what Omar Koleilat from Crestyl hopes in the interview you will soon read on our website.
We also believe it and we think that the time-out before this start will benefit us all. In this regard, we thought of you and we prepared a visit to the Temelín nuclear power plant in August.
Editorial staff wish you a lovely summer on behalf of entire Stavební fórum.
Photo: Ivan Prole
Social networks
Article options